Before presenting some of the Apartment Buildings Sale Florida, I thought it would be appropriate to add a short description of the US state of Florida itself.
Florida is the most southeastern region of the United States and is nicknamed the Sunshine State. It has a population of more than 20 million, 18% of those are over the age of 65.
Except for the states of Alabama and Georgia to the north, Florida is surrounded by coastline. It is surrounded to the west by the Gulf of Mexico, to the east by the Atlantic Ocean and to the south by the Straits of Florida. To the other side of the Strait is the sovereign state of Cuba.
Florida is the 3rd most populous and the 8th most densely populated state of the United States and the capital of Florida is the city of Tallahassee.

---
Baron Las Villas
1503 E 142nd Ave Tampa, Florida 33613
This offering is a multifamily 61 unit Garden/Low-Rise investment opportunity on 2 acres. 6 units have with 2 bedrooms, 56 units have one bedroom with potential to convert all the units to 2 bedrooms. It is located near the University Of South Florida, close to retail centers.
Buildings Size: 33,500 SF Price: $2,700,000
Price/Unit: $44,262.30 Cap Rate: 8.10%

---
Live Oak Apartments
248 Four Mile Road Freeport, Florida 32439
This offering is a multifamily Garden/Low-Rise Duplex Apartment Complex on 1 acre. It consists of four Buildings, 8 occupied apartments in high rental demand area. The complex is located just off US Hwy 20 in the northwest of the state.
Buildings Size: 6,000 SF Price: $599,000
Price/Unit: $74,875

---
1888 Fortune Rd
Kissimmee, Florida 34744
This offering is a multifamily Garden/Low-Rise Apartment Complex on 1.55 acres. It consists of 11 rental units and is located 20 minutes away from Walt Disney World and Theme Parks.
Buildings Size: 18,752 SF Price: $1,400,000
Price/Unit: $127,272 Cap Rate: 6.25%

---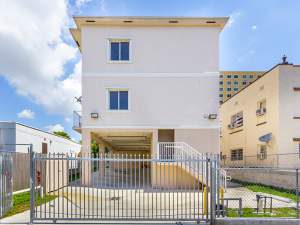 Little Havana 5-Plex1063 SW 2 St Miami, Florida 33130
This offering is a 5 unit, 3 storey garden/low-rise multifamily investment property. The property is centrally located East Little Havana, with easy access to public transportation and close proximity to downtown Miami. 100% occupied and fully metered.
Building Size: 6,210 SF Price: $950,000
Price/unit: $190,000 Cap Rate: 4.73%
---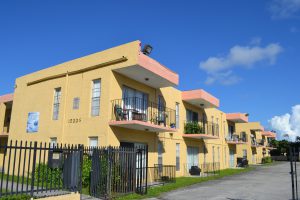 Galaxy Apartments15005 NE 6th Avenue Miami, Florida 33161
This offering is a 48 unit garden/low-rise multifamily investment property built in 1972 on 1.91 acres. Located in the NE part of Miami, close to Interstate 95. Public transportation is readily accessible. Close to shopping and public schools.
Building Size: 41,473 SF Price: $4,040,000
Price/unit: $84,166 Cap Rate: 6.09%
---